Legacy is a new Hindi rap song released on the official YouTube channel of J Trix. The song was sung and written by J Trix himself. Today in this post we are going to share Legacy lyrics in English and Hindi.
Before we get to all lyrics section, here are some details about the song Legacy by J Trix
Song details: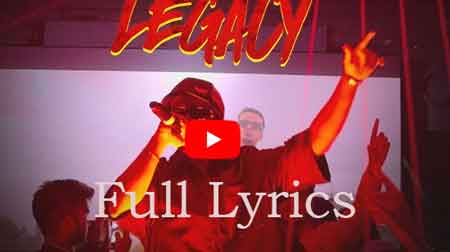 Song: Legacy
Singer: J Trix
Lyrics: J Trix
Category: Hindi rap song
Release date: 13th June 2023
Legacy Lyrics in English
Read Legacy Lyrics in English language here
T 20 Cricket Ni Legacy Chaiye Test Wala
Fuck the autotune freeverse ye from the chest wala
Underrated till I die mera bhai
Agar Main Zinda tu Ab Tak Nahi Aaya gana Mera best wala
Pov at the top floor
Club Mein entry back door
Pasand nahi tha blackboard
Kam pura time
Pareshan Mera backbone
Sir per Koi Nahin bank loan
desi Puri life
Aint no visa in my passport
Dur ka sochte Yahan ladke Sare visionary
Batchit se sort nahi to fuck him all in missionary
Amar Rahane wala kam se Hamesha
Tabhi J Trix na bhare kabhi form Mein beneficiary
Mis kiye parties Kafi mis Kiya fun
Kam per tha man had to develop my funds
So I double up my Hustle and I double up my risk
And I develop my Investments that develop my fees
And I will do it on repeat
Mai Ek Rapper aur ek businessman
Karna beef to we going to give you the businessman
Musics my passion and the industry is my Business man
And how I do this is really non of your business
Hai Ye bas Kismat Nahi socha Samjha plan
Quality and quantity sath chalta hai tu hand
Tere baare bura bola to Tere Munh pey
Batchit Jo Hone Wali sari Hogi men to men
Bit ka Khooni
Main Baatein karta andruni
Ek do kam Gair kanuni
Faltu ke mein Lagta Munh Nahin
Kalakari Pai ka chuni
Oz clan per ab hu ni
Aajkal rapper a Rahe jokers
Sale lagte Mujhe luni tunes
Bitch
A rapper lagte Mujhe spineless
Fashion jyada rhymeless
Baten Karte Gangster wali
Street trade crimeless
Album suna lifeless
Koyle ke bich ham diamonds
Music banate timeless
Waqt Hamara priceless
Hustle wali Zindagi expect nahi karta kindness
Mehnat Karta double, Timepass karta minuss
Naak Mein Mai dam Jaise sinus
You will always remember me as the finest
Loyal to the game aitihasik Hai Yeh journey
Girne Ka Koi Dar Nahin lafron ka koi fikra nahin
Ab Bus Mein ghumta Tha Sapnon Mein Tha Fark
Ab Range Rover Lekar ghumo Shahar Dikhe Alag
Har roj naya lesson har roj naya chapter
Interesting a life I don't care about the after
Come to the nationally
You know I am always in and out
J Trix Subspace K City
Kela Chini Paw
More lyrics:
Legacy Lyrics in hindi
Read the complete lyrics in Hindi language
More lyrics:
FAQ
Who wrote the song Legacy Lyrics?
J Trix wrote the lyrics of this song.
Who sang this song?
J Trix sang this song.
Final Words:
We hope you like this Hindi rap song Legacy Lyrics in English. Also, read the lyrics in Hindi language on Bangla lyrics zone.
More lyrics: