New years new song Edhani is here and today we are going to share the full Edhani Lyrics in Assamese. Edhani is a very beautiful song and many wish to sing this in their leisure time but some only know the beautiful lyrics of this song. But before we head into our main topic, here are some details about the song Edhani full lyrics in Assamese.
Song Details:
The song Edhani was sung by Ritom Borah and the lyrics and composition were written by Ratul Kalita and Ritom Borah. Music in this song was provided by Migom Bori and Ritom Borah himself with the guitar and flute in this song.
Vocal– Ritom Borah
Lyrics & Composition– Ratul Kalita & Ritom Borah
Music / Mix & Mastered– Migom Bori
Guitar/Flute– Ritom Borah
Additional Drop– Royen Chungkrang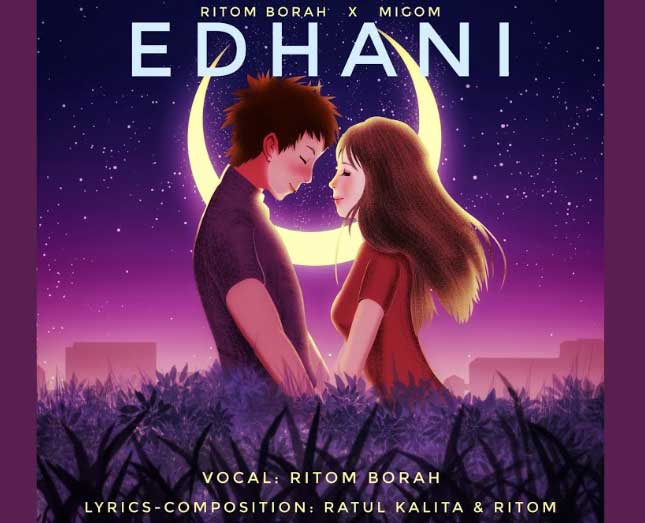 Edhani Lyrics in English
Read Edhani Lyrics in English language-
Junakore eti godhulite
Motoliya borokhai aahi
Tiyalehi bukute dharakhar
Fagunore eti abelite dibane kakhorole aahi
Hridoyote guji morom edhani
Kobologa bohu kotha ase gupone
Tumake kobole
Asutiya bohu morom ase bukute
Tumake dibole
Kobo loga bohu kotha ase gupone
Tumake kobole
Asutiya bohu morom ase bukute
Tumake dibole
Nojonake nubujake biyopi rom tumar tejote
Hridoyore dolisate tumake rakhisu
Mouxona hei dusokure premote porilu
Uxahe nixahe tumak monote xuworu
Xoyone xopune jaana kakhote bisaru
Utonuwa fagunore esati moloya
Uruwai nilehi taik korile jurula
Motoliya abegote tumare bhabonate
Hepahere rosim xopun janane
Nobhoba ke mone mone
Xaboti lom tumak duhate
Edhani Lyrics in Assamese
Read Edhani Lyrics in Assamese language here-
জুনাকোৰে এটি গধুলিতে
মটোলিয়া বৰোখাই আহহি
তিয়ালেহি বুকুতে ধৰাখৰ
ফাগুনোৰে ইতি আবেলিট দিবানে কখোৰোলে আহিহি
হৃদয়োতে ​​গুজী মৰম এধনি
কোবোলোগা বহু কোথা আসে গুপোনে
টুমাকে কোবোলে
অসুতিয়া বহু মৰম আসে বুকুতে
টুমাকে ডিবোলে
কোবো লগা বহু কোথা আসে গুপোনে
টুমাকে কোবোলে
অসুতিয়া বহু মৰম আসে বুকুতে
টুমাকে ডিবোলে
নোজোনাকে নুবুজাকে বিয়োপি ৰোম তুমাৰ তেজোতে
হৃদয়োৰে দোলিছাতে তুমাকে ৰাখীসু
মৌক্সোনা হেই ডুছ'কুৰে প্ৰিম'ট পৰিলু
উক্সাহে নিক্সাহে তুমাক মনোটে জুৱৰু
Xoyone xopune জানা কখোতে বিছাৰু
উটোনুৱা ফাগুনোৰে এছাতি মোলোয়া
উৰুৱাই নিলেহি টাইক কোৰিলে পলুলা
মটোলিয়া আবেগোতে তুমাৰে ভবোনাতে
হেপাহেৰে ৰোচিম ক্ষোপুন জননে
নোভোবা কে মন মনে
খাবতি লম তুমাক দুহাতে
More Lyrics:
Watch Edhani Video song on YouTube
Who wrote the lyrics of the Edhani Song?
Ratul Kalita & Ritom Borah wrote the lyrics of this song.
Who sang this song?
Ritom Borah Sang this song.
Final Words: "Edhani" is a soulful Assamese song by Ritom Borah that is sure to tug at the heartstrings of listeners. With its emotional lyrics and haunting melody, the song beautifully captures the pain of separation and the longing for a loved one. Ritom Borah's heartfelt vocals add to the song's overall appeal, making it a must-listen for fans of Assamese music who appreciate poignant and soul-stirring music.
So, here are all the details of the latest song Edhani by Ritom Borah. We have shared the full Edhani lyrics in Assamese and English both languages. I hope you will like this post and share with your friends.
More: