Kalki Chetavani is a newly released Hindi song on the YouTube channel NARCI. The song was sung and written by a famous Indian singer called Narci. It is a beautiful song telling about the coming Kalyug. Today in this post we are going to share this song Kalki Chetavani lyrics in English and Hindi.
Before we get to our lyrics section, here are some details about the song Kalki Chetavani by Narci
Song details: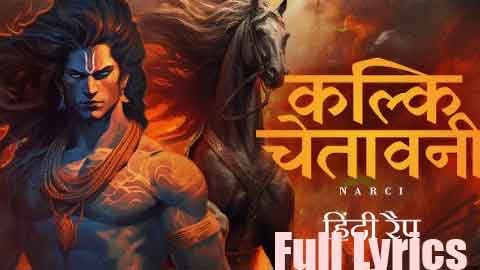 Song: Kalki Chetavani
Rap & Lyrics: Narci
Singer (hook part): Mahendra Kapoor
Lyrics (hook part): Kavi Pradeep
Category: Hindi song
Release date: July 23, 2023
Kalki Chetavani Lyrics by Narci
ReadKalki Chetavani Lyrics in English language
Kalyug Jab apni Charam Seema per aaega
Aisa Kalyug aaega, na Maryada Hogi na bahan na bhai
Na bhabhi na bhaiya,
Aisa Kalyug aaega ki insanon ki mans Ki Mandi Lagegi
Kitni hi bar Dayanidhi Ne
Sansar ko Aakar ubhar liya
Jab Jab Dharti Par dharm Ghata
Tab tab Prabhu Ne Avatar liya
Karo Hari Darshan
Hari Darshan
Karo Hari Darshan
Karooo Hari Darshan
Ungali Mein Sudarshan Dharan
Ek Hath Mein shankhp Sada
Ek Hath Mein Kamal Tika hai
Ek Hath Mein Mere gadha
Roop hajaron Lekar
Main hi aata Dharti pe
Sthapit Karta Ne Ki Main
Jab Bhi Dekhun Paap Badha
Preetha me Maryada Laya
Dwapar Mein Updesh Diya
Leela dwara Har Samay mein
Swayam Ko Maine pesh Kiya
Bhakton Ki Chinta Ko Maine
Baikunth Se Dekha Hai
Narsingh bhi banaa Hun Main
Manav ka bhi bhes liya
Dharm dabane Ka Na banaa
Ab tak vaise Shor Koi
Paapi Kaise samjhenge
Mere Leela Kanha Chor Koi
Aur koi jo bhakton ke mere
Bharta Lekar Hani ko
Hari bhajan hi Dhal bane
Jiska hai na to aur koi
Naino ke aage rahti hai
Karmon ki bhi jhanki
Avgat Hu Mein Kaun sahi hai
Kaun Dhara Mein Paapi
Leela Mein sandeh karo na
Sahi Samay mein aaunga
Dashamroop Ki Leela mein
Meri Dharti Mein Hai Baki
Vartman Ki Baat Karun to
Jari hai abhi pahla Bhag
Manav sote Maya mein
Kali Gaya Hai kab ka Jaag
Rang manch pe Duniya Ke
Vah natak Dekhe Papon ka
Kamvasna bant Raha
Banke vah Vishay La Nag
Jin Jin ko pahchan kali Ki
Vah Na faste fande Mein
Bhakti Ko Na Jaan sake Jo
Naino wale andhe Hain
Bhap bhare Virodhi ka
Bhitar Tere Dharm Prati
Man gai to Sath chalenge
Papa baith ke kandhe pe
Koi Bhi Na Berry Mera
Sare Mere prani hai
Karta hoon sachet Magar
Duri Rakho Hani se
Bite Sare yugon Mein Paapi
Khud Ko Samjhe The Nayak
Dharm banaa Tha Nayak per
Meri Har Kahani mein
Samne na Kali Abhi
Roop liye vah Aaya Hai
Banke vah ab bhautik
Manas Mein Samaaya Hai
Khel raha vah Man Mein Baithe
Sab bure vicharon se
Tere Andar Ka Manav
Usne hi chabaya hai
Hook
Kitni baar Dayanidhi ne
Sansar ko Aakar ubhara Liya
Jab Jab Dharti par dharm ghata
Tab tab Prabhu Ne Avatar liya
Karo Hari Darshan
(Hari Darshan)
Karo Hari Darshan
KaroooO Hari Darshan
More lyrics:
Kalki Chetavani Lyrics in Hindi
Read the complete lyrics in Hindi language
More lyrics:
FAQ
Who wrote the song lyrics?
Narci and Kavi Pradeep wrote the lyrics of the song.
Who sang this song?
Narci and Mahendra Kapoor sang this song.
Final words:
We hope you like this hindi rap song Kalki Chetavani Lyrics in English by Narci. Also read Kalki Chetavani Lyrics in Hindi on Bangla lyrics zone.
More lyrics: