Tair Kotha is a beautiful Assamese song with for the heart warming slow song lovers. This is song is basically a evening song and its lyric is like out of the world. If you also loved the song then read the complete song Tair Kotha Lyrics in English and Assamese.
before we get to our lyric section, here are some details about the song Tair Kotha by Maitrayee Patar-
Song Details: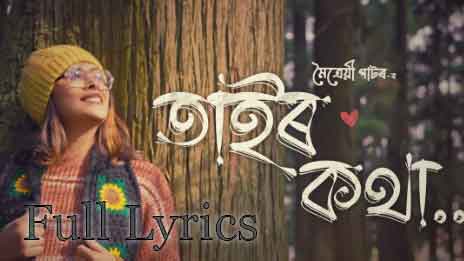 Vocals & lyrics– Maitrayee Patar
Composition & music– Pallab Talukdar
Guitar & strokes– Rupam Sharmah
Bass– Himanshu Das
Category: Assamese Song
Release Date: Mar 10, 2023
Tair Kotha Lyrics in English
Read the song Tair Kotha lyrics in English language-
Bhabonare Kuwoli Theli tai
Ekhuje Dukhujei Aguwai
Beli uthe Okol Hore Puwai
Huroj Mukhi dinore Misi kiyai
Ukhol makhol aakaxh naame
Mukhoni loi tair
Batoruwa meghor hote
Tai gusi jai
Nijore Logori Tai
O Tai,
Nijore Rodali bai
Mukoli Ukhah Tai
O Tai
Botahew Ro Lagi Sai
Eri Oha Dinore Roja Rani Khel
Echerenga Hukhore Junaki Mel
Ota etia rojo, ekajori ful
Rod Loga uchahot roi jano bhul
Hridoy Kagojot, Baje Tai
Homoi Akhorot Junukai
Ukhol Makhol Akah name
Mukhonile Tair
Batorua Meghor Hote, Tai Gusi Jai,
Submit Your Lyrics or Correction Here
More Lyrics:
Tair Kotha Lyrics in Assamese
Read the complete song lyrics in Assamese language-
More Lyrics:
FAQs
Who wrote the song Tair Kotha Lyrics?
Maitrayee Patar wrote the lyrics of this song.
Who sang this song?
Maitrayee Patar sang this song.
Final Words:
We Hope you liked this new Assamese song Tair Kotha Lyrics in English. Also read the complete lyrics in Assamese on Bangla Lyric Zone.
More Lyrics: