Zinda Banda is a newly released Hindi song on the official YouTube channel T series. The song is from the latest Upcoming movie Jawan starring Shah Rukh khan. It was sung by Anirudh Ravichander and written by Irshad Kamil. It is a beautiful song with beautiful lyrics. Today in this post we are going to share the song Zinda Banda lyrics in English and Hindi.
Before we get to our lyrics section, here are some details about the song Zinda Banda by Anirudh Ravichander
Song details: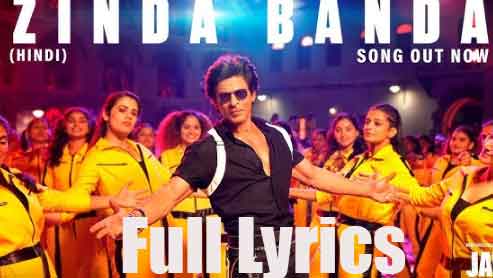 Song: Zinda Banda
Song Title : Zinda Banda
Album / Movie : Jawan
Composed by Anirudh Ravichander
Lyrics – Irshad Kamil
Vocals – Anirudh Ravichander
Dialogues – Shah Rukh Khan
Lebel: T Series
Category: Hindi song
Release date: Jul 27, 2023
Zinda Banda Lyrics by Anirudh Ravichander
Read Zinda Banda Lyrics in the English language here
Asulon per Jahan a Jaaye
Takrana jaruri hai,
Banda Jinda Ho
To Jinda Najar Aana jaruri hai
Banda ho to Jinda Ho
………..
Dil Nachda Re
Dil Nachda
Khul Ke bhi rakhne se
Nachda (Ready)
Dekh
Himmat se Nacho Dhirak Dhirak Yaaro
Dharti Hila do Dhirak Dhirak re
Mati Kapa kar Usuk Usuk Jaye
Ambar Jhuka do Dhirak Dhirak Re
Narak Bharat panga Ho
Khalak Jhalak Manga Ho
FIkar Fikar Banda Ho
Banda Ho Zinda Ho
Tabad Todak Banga Ho
Palak Jhalak Banda Ho
Sabar Shukar Jinda Ho
Banda Ho Zinda Ho
Darpan Ranga Re
Dharkan Angare
Tanman Dhankare
Zinda Banda Ho
Tanman Dhankare
Zinda Banda Ho
(Pero Tale Dhua Jaleee )
(Apna Rukna Chalne De )
(TanMan
Koi Humare Jesaa Kaha
Hum Na jaha Se
Humse Jaha
Jee Me Jashan Me Ahat Jale
Apne Hunar Me Chahat Jale
Dhirak Dhirak Thakna Kyu
Thunak Thunak takna kyu
Jhijak Jhijak Jhakna Kyu
Banda Ho Zinda Ho
Dharak barak Banda Ho
Falak Talak Banda Ho
Fikar Fikar Zinda ho
Banda Ho Zinda Ho
Jeena Jane jo
Dilki Mane Jo
Karde Thane Jo
Jinda Banda Ho
Karde Thane Jo
Jinda Banda Ho
More lyrics:
Zinda Banda Lyrics in Hindi
Read the complete lyrics in the Hindi language
असूलों पर जहां ए जाए
टकराना ज़रूरी है,
बंदा जिंदा हो
तो जिंदा नजर आना जरूरी है
बंदा हो तो जिंदा हो
………..
दिल नचदा रे
दिल नचदा
खुल के भी रखने से
नचदा (तैयार)
देख
हिम्मत से नाचो धिरक धिरक यारो
धरती हिला दो धिरक धिरक रे
माटी कपा कर उसुक उसुक जाये
अम्बर झुका दो धिरक धिरक रे
नरक भारत पंगा हो
खलक झलक मंगा हो
फ़िकर फ़िकर बंदा हो
बंदा हो जिंदा हो
ताबाद तोड़क बंगा हो
पलक झलक बंदा हो
साबर शूकर जिन्दा हो
बंदा हो जिंदा हो
दर्पण रंगा रे
धारकन अंगारे
तनमन धनकरे
जिंदा बंदा हो
तनमन धनकरे
जिंदा बंदा हो
(पेरो टेल धुआ जली)
(अपना रुकना चलने दे)
(तनमन
कोई हमारा जेसा कहा
हम ना जहां से
हमसे जहा
जी में जशन में आहट जले
अपने हुनर में चाहत जले
धिरक धिरक थकना क्यू
थुनक थुनक तकना क्यू
झिझक झिझक झकना क्यू
बंदा हो जिंदा हो
धारक बराक बंदा हो
फलक तलक बंदा हो
फिकर फिकर जिंदा हो
बंदा हो जिंदा हो
जीना जेन जो
दिलकी माने जो
करदे थाने जो
जिंदा बंदा हो
करदे थाने जो
जिंदा बंदा हो
More lyrics:
FAQ
Who wrote the song lyrics?
Irshad Kamil wrote the lyrics of this song.
Who sang this song?
Anirudh Ravichander sang this song.
Final words:
We hope you like this new Hindi song Zinda Banda Lyrics in English by Anirudh Ravichander. Also, read Zinda Banda lyrics in Hindi on Bangla Lyrics Zone.
More lyrics: