Zubeen best lover right? Zubeen's amazing songs and his voice make us listen to his every song and we also often want to copy his sweet melody voice by singing his songs too. Today in this post, we are here with one of his latest songs Balimahi Lyrics in Assamese and English.
Well, the song was released on YouTube on 21st January 2023. Before we head to our main lyric content, here is some information about our favorite Zubeens song-
Song Details-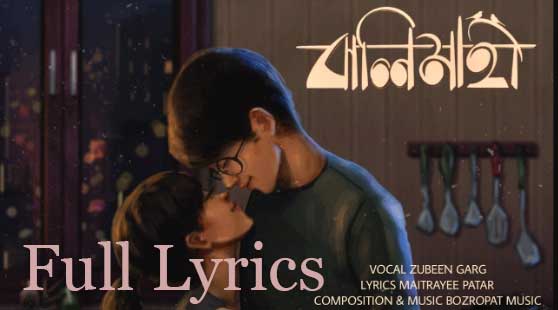 SONG Name – BALI MAHI
SINGERS Name – Zubeen Garg & Priyanka
Lyrics – Rituv Hazarika
Music by – Dipkesh Borgohain
Label: GEET MUSIC PRODUCTION
Balimahi Lyrics in English
Read Balimahi Lyrics in English Language-
updating soon- read Assamese below
Balimahi Lyrics in Assamese
Read Balimahi Lyrics in Assamese language-
বালিমাহিত এখোজ দুখোজ
অসীমলে তোমাৰ স'তে
মৰম আবেলিতি পাৰ হ'ল …
সেন্দুৰীয়া আকাশে যেন
সানিলেহি প্ৰেমৰ পাহিত
ৰাঙলী মদাৰৰ মিঠা বোল …
ধীৰে ধীৰে দুখনি হিয়া এখন…
হ'ব খোজে পাহৰি পৃথিৱী খন …
ধীৰে ধীৰে দুখনি হিয়া এখন…
হ'ব খোজে পাহৰি পৃথিৱী খন …
এই মৰম থাকিব জনম জনম …
বালিমাহিত এখোজ দুখোজ —
(Music)…….
হৃদয়তে নামিছে পলকতে …
একাজলি ৰ'দ হৈ তোমাৰ মৰম …
অ' অ' অ' অ' …তোমাৰে
অধীন মোৰ হিয়াখন …
প্ৰাণে প্ৰাণে মাথো মোৰ তোমাৰ বৰণ …
ধীৰে ধীৰে দুখনি হিয়া এখন …
হ'ব খোজে পাহৰি পৃথিৱী খন …
ধীৰে ধীৰে দুখনি হিয়া এখন …
হ'ব খোজে পাহৰি পৃথিৱী খন …
এই মৰম থাকিব জনম জনম
(Music)…..
চন্দ্ৰ , তৰা আকাশৰে শুৱনি
মন সৰগৰ তুমি অভিসাৰিনী …
তুমি নিভাজ হিয়াৰ শিহৰণ
ধীৰে ধীৰে দুখনি হিয়া এখন
হ'ব খোজে পাহৰি পৃথিৱী খন
ধীৰে ধীৰে দুখনি হিয়া এখন
হ'ব খোজে পাহৰি পৃথিৱী খন
এই মৰম থাকিব জনম জনম …
More Lyrics:
Balimahi video song on YouTube-
Who wrote the song Balimahi Lyrics?
Rituv Hazarika wrote the lyrics of this song.
Who sang this song?
Zubeen Garg and Priyanka sang this song together.
Final Words: "Balimahi" is a mesmerizing Assamese song sung by Zubeen Garg that is sure to captivate listeners with its beautiful melody and haunting lyrics. The song's soulful composition is enhanced by Zubeen Garg's powerful voice, which brings out the emotions of the song's protagonist. With its haunting melody and poignant lyrics, "Balimahi" is a must-listen for fans of Assamese music who appreciate soul-stirring music.
Balimahi is a newly released Assamese love song by Zubeen Garg and Priyanka. The melody of this beautiful Axomiya Song is very peaceful and the beautiful lyrics in this song were written by Rituv Hazarika. You can read this post for Balimahi lyrics in Assamese. I hope you all like this post.
More Lyrics: